Hear from a seniors' downsizing expert!
Complimentary Downsizing Webinar
Enjoy this free prerecorded downsizing webinar, hosted by author Margo Salnek, a 15-year expert in seniors' downsizing and the CEO and founder of Move Seniors Lovingly. Margo is joined by Mark Lugowski, Executive Vice President of Retirement at Sienna Senior Living. Mark has a wealth of experience, having worked in retirement living for more than 15 years. He has served as Vice President of the Board of Directors for the Ontario Retirement Communities Association and is happy for the chance to provide some expert tips to help you through this journey.
Enjoy learning about each stage of downsizing, including:
Step-by-step process to easy downsizing


Practical advice on what you can do with the items you no longer need

And more!
Live a lighter, clutter-free life with these easy tips!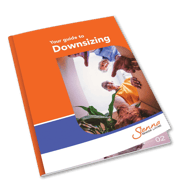 As an added bonus, you'll receive our exclusive downsizing guide for free!
Fill out the form to get the recording